Oky doky hehe believe it or not, one has actually made a start towards fitting the dream xxi
I have a replacement zorst manifold (modified) which will hopefully prevent cracking in the future, so to replace it the inlet has to come off plus various other bits n bobs, so whilst it is off im drilling and tapping the holes for the nozzles, thing is though my m5 drill bit is more like an m5.5 its not but running the m6 tap through leaves these nozzly things which arent the right thing really not very tight screwing in, so will call it a day today and wiz out tomorrow and purchase a new 5mm bit, may even go down to 4.5 which will give me a better thread in the aluminium casting.
Im gonna order 6 of these from tinley tech monday morning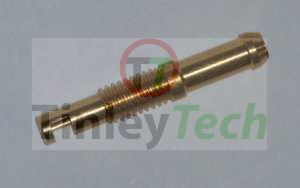 so I can get the nozzle right into the airflow and direct the squirt right at the valve, if these arent the right thing, would someone let me know asap so I can order the right things
Other things discovered like a collapsed NS engine mount
but had great access to the block drain bung which was seized in solid, but now isnt so draining the block for flushing is now a whole lot easier.
Once all the manifold has been drilled n tapped ill blank the holes with m6 bolts so I can still run with the single point for now, be interesting to see how much economy improvement there is, if any.