I just converted a BMW745 Valvetronic, engine bay pics below.
I usually fit AEB on V8 installs but for this model I chose KME Nevo, with single MJ injectors and KME Gold reducer.
For those that don't know (which won't be many on this forum), Valvetronic engines are capable of running in a mode which doesn't use the throttle to restrict airflow into the engine's cylinders in the usual way. When running in Valvetronic mode, the engine valves control flow of air into the cylinders instead of the throttle by means of some clever engineering. They still have a throttle and are capable of running in conventional throttled mode but much of the time they run in Valvetronic mode (and seemingly sometimes part Valvetronic / part throttled mode).
Petrol pressure on these engines isn't relative to engine vacuum (as is the case with most engines), petrol pressure is instead constant above atmospheric pressure and in the case of this 745 model that pressure is around 50psi. So, petrol pressure relative to manifold pressure will be at 50psi when the engine is running in fully Valvetronic mode or running flat out in throttled mode, because in these situations the manifold pressure is almost the same as atmospheric pressure (the throttle is fully open all the time in fully Valvetronic mode) but when the engine is not running in fully Valvetronic mode (when the throttle is used to restrict airflow into the inlet manifold) and the engine is running at part throttle the manifold pressure is below atmospheric pressure, so petrol pressure relative to manifold pressure increases. I.e. If the engine is idling in Valvetronic mode, manifold pressure will be very near atmospheric pressure (1 bar) so relative petrol pressure (to manifold pressure) will be 50psi but if the engine is ldling in normal throttled mode then manifold pressure might only be 0.3 bar. Since atmospheric pressure (1 bar) is 15.4psi, manifold pressure in psi at 0.3 bar is only 4.62psi.. So relative petrol pressure under these conditions would rise to 50+15-4.62psi = 60.38psi, which is more than a 20% increase in fuel pressure. This means that in order to correctly fuel the engine the petrol ECU must pulse petrol injectors for a different length of time depending on which mode it is operating under... If the petrol ECU needed to pulse petrol injectors for, say, 4ms to provide the correct amount of fuel for the engine to idle with correct mixture under Valvetronic conditions, but it then continued to pulse petrol injectors for 4ms when the engine reverted to throttled mode, then the air/fuel mixture would become around 20% too rich - so the petrol ECU knows which mode it is operating under and compensates petrol injector pulse time accordingly... that 4ms pinj would become around 3.2ms with manifold pressure of 0.3bar.
Regards LPG conversion the above presents a bit of an issue that must be properly addressed if the car is to be fuelled correctly in more than one mode of engine operation. Modern day vehicles, certainly including this BMW745, must be converted with an LPG fuel system which works as a slave to the (master) petrol fuel system because the petrol ECU expects to have direct control over fuelling and will generate all types of error codes if in any way it detects it does not have very precise direct control over fuelling (which it interprets as a problem with the engine itself or with one of it's engine sensors). If LPG calibration is only correct for Valvetronic mode and the vehicle switches to another mode during driving on LPG (which they occasionally do anyway, sometimes seemingly just to confirm the throttle works), then the vehicle may generate error codes for incorrect mixture. If such codes are generated, Valvetronic engine ECUs can be reluctant to switch back to Valvetronic mode because throttled mode is also the failsafe mode (the Valvetronic method of operation is much more complicated than throttled mode requiring very precise control over the 32 engine valves, first thing that happens with a problem is the petrol ECU switches back to much simpler throttled mode). It follows that a latched mal-running / catch22 situation can therefore occur, i.e. if the engine doesn't switch back to Valvetronic mode, then while-ever the engine runs (especially at low loads) on LPG the mixture will never be correct, and since the mixture isn't seen to be correct in throttled mode this becomes a constant problem because the engine will not switch back to Valvetronic mode, and so the incorrect mixture continues, the error mode continues and the error condition becomes constant until the engine is restarted (and quickly switches to Valvetronic mode before errors are noted in throttled mode). The LPG slave ECU's only input from the petrol ECU regards fuelling is the petrol injectors pulse duration (this is 'would be' pulse duration, as of course petrol injector signals are disconnected from petrol injectors when running on LPG) and this is where the problem begins. Above we can see that 4ms of petrol injection pulse duration in Valvetronic mode equates to the same flow of fuel to the engine as 3.2ms in throttled mode but 4ms of petrol injection in throttled mode is a very much greater does of fuel than 3.2ms in Valvetronic mode (quick estimate 40% difference in fuel dosage here!), while LPG ECU's don't normally know, care or attempt to address whether the engine is running in Valvetronic mode or throttled mode.
If it were possible to run LPG vapour pressure at 50psi relative to atmosphere (the same as petrol pressure) then there wouldn't be a problem, because LPG pressure relative to manifold pressure would be the same as petrol pressure relative to manifold pressure under any engine mode. But we cannot do that for several reasons.. LPG (even neat propane variant) would condense back into a liquid in freezing weather (well, freezing vapour pipe and injector) conditions, while even in warmer conditions LPG injectors wouldn't work properly at such a high pressure.
Some installers set a high changeover temperature and hope the engine will run only in only one of it's modes (usually Valvetronic) following the changeover to LPG, thus disregarding correct fuelling in the event the engine at some point reverts to another mode... and it will at some point revert to another mode... because A. Or why else would BMW bother to even fit a throttle? B. The petrol ECU will occasionally check that the electronic throttle still works properly as part of it's usual system checks, C. These engines tend to have a lot of phantom pending OBD codes for such as cam sensor issues (enough for the engine to switch to throttled mode in some circumstances), D. With a cold engine the ECU may dictate throttled mode in some circumstances (and the LPG system may switch to LPG mode before the engine is warmed enough to switch to 100% Valvetronic mode, E. Following any clearing of OBD codes or resetting of fuel trims the petrol ECU will want to re-learn and confirm correct running/fuelling in throttled mode just as much as re-learning how to fuel the engine correctly in Valvetronic mode.
Given the 20% discrepancy of fuelling between modes, some installers try to set calibration on middle ground between modes, so with continued luck fuel trims might bend negative 10% in throttled mode and positive 10% in Valvetronic mode if they connected the LPG reducer and pressure sensor to manifold vacuum. This in itself can lead to continued switching between modes as the petrol ECU attempts to check differences between fuelling in different modes are as should be expected (and finds the difference is not as expected, which rings alarm bells as far as the petrol ECU is concerned, thus leading to further checks. A Valvetronic ECU running such checks will often hold engine idle speed at around 1100rpm as it checks expected necessary differences in fuelling are as expected, not only for low idle speed (say 600rpm) but over a wider range of idle speeds too (the higher idle speed means greater manifold vacuum when running in throttled mode than there would be at low idle speed, thus allowing comparison where the difference in petrol injection time between engine modes should be greater than at low idle speed, and info collated at 1100rpm serves as a second set of reference figures which can be compared to 600rpm figures). The '1100rpm syndrome' could be considered as a point F in the above paragraph.
Old advice from one system supplier (which worked OK particularly on early big engine models in the Valvetronic line up) was to not connect LPG reducer or pressure sensor to manifold vacuum and set LPG calibration with a 'flat map'. This has the effect of increasing actual relative LPG pressure while the LPG ecu does not see or account for the increased pressure (by decreasing gas injector duration as pressure rises), so the petrol ECU decreases it's petrol injector duration in throttled mode (compared to Valvetronic mode) but the LPG system working with greater effective pressure which it hasn't accounted for therefore in a way compensates by default by flowing more gas... This works up to a point but can be system/component specific, because factors such as injector response times and abilities of working properly at high pressures (e.g. 1.7 bar relative to atmosphere becomes 2.4 bar relative to a manifold at 0.3bar) play there part in helping to compensate for that 20% difference in fuelling. If you swapped any of the components, perhaps for what would usually be considered better spec components, then the 20% that was achieved using the original components might become say 5% or 40%... I still remember Nick at FES saying something like don't connect vacuum pipes to reducer or pressure sensor, with OMVL metal bodied injectors and OMVL HP reducer set a flat map of 176 and it should work OK - and it did work, kind of, most of the time. It may not work with a different pressure or different injectors or different ECU (that assumed a different injector response time to the OMVL ECU even for the same model/spec injectors). It did not work nearly so well on smaller engine'd Valvetronic models in the line-up such as the 3.5V8, this will be because some of the dynamics discussed here (injector response etc) will have a different effect on fuelling across the load range on early 3.5Valvetronics compared to the early 4.5Valvetronics.
A few reasons led to my choosing the Nevo ECU for the Valvetronic, not least my experiences of using 2 x 6 cylinder Nevo ECU's on the 6L V12 twin turbo Merc I fairly recently converted
http://www.lpgforum.co.uk/viewtopic.php?f=27&t=14115
. On the Merc I overcame an issue with incorrect fuelling leading to drive-ability problems when turbo boost came in by realising the problem was due to petrol pressure (of 5bar) being relative to atmospheric pressure, which would be 6 bar if the manifold could ever reach full vacuum and became only 4 bar when the manifold reached 2bar (1bar atmosphere plus 1 bar of turbo boost pressure). The difference between idle manifold pressure and full boost pressure meant petrol pressure relative to manifold pressure fluctuated by 40odd%, so, say, 8ms of pinj with manifold pressure at atmosphere would represent a very different (and greater) amount of fuel dose compared to 8ms of fuel dose with the manifold pressure boosted by the turbos... Such discrepancy usually only occurred for a very short time on this vehicle because 8ms of Pinj would imply the throttle/rpms to be at a level where the turbos would soon bring the manifold up to boosted levels but even during that short period the fuelling error was enough to cause a problem. The Nevo ECU allows fuelling on gas to be compensated according to manifold pressure and the range of manifold pressures covered can be defined - on the Merc that range needed to address absolute manifold pressures between 0.2 bar and around 2 bar, where as on a Valvetronic the range would only need to cover 0.2bar to 1bar. Addressing the problems on the Merc by dialling in manifold pressure compensation led to thinking of the implications for Valvetronics and I decided at that point that I'd fit a Nevo on the next Valvetronic I converted. On the Merc not connecting the reducer pressure reference to manifold pressure would not be plausible, because with reducer pressure set to even a relatively high pressure such as e.g. 2 bar the effective LPG pressure range relative to manifold pressure would have fluctuated between 1 bar (under boost conditions) and 2.8 bar during engine over-run, way too much of a fluctuation for injectors to work above minimum duration they could accurately meter fuel at at one end of the scale and way too little pressure for same injectors to flow enough fuel under boost conditions. With reducer and sensor connected to manifold the compensation range for ginj duration had to cover a range of around 40%, much more than would be necessary for a Valvetronic and it worked well even in this case so I knew it would work well on the Valvetronic. Other ECU's feature compensation for manifold vacuum (and other unusual things to compensate for) similarly to Nevo but in the case of other ECUs I find such facilities can sometimes be gimmicky, don't work as they should and don't allow the user to set/see the settings that are being applied, i.e. a graph on which you can adjust points to any position you like and set as many points as you like but which has no scales on the axis does not allow the user to set a specific amount of compensation from the outset.
For both this Valvetronic and the Merc I used a spreadsheet to calculate the compensation figures that I'd need to apply over the full range of manifold pressures, pictured below.
This is how I entered the compensation figures in Nevo for the Valvetronic
Pic of map functioning in throttled mode. Clear to see it's in throttled mode, manifold pressure of 0.37 bar is a give-away in itself. Note how for pinj of 3.3ms, ginj is 5.1ms (granted with approx +9% of pressure and temp correction). The reason ginj is as high as 5.1 is for the most part due to the +17% manifold pressure compensation that I have dialled in. There are two +17% figures, each relevant to one bank of engine cylinders.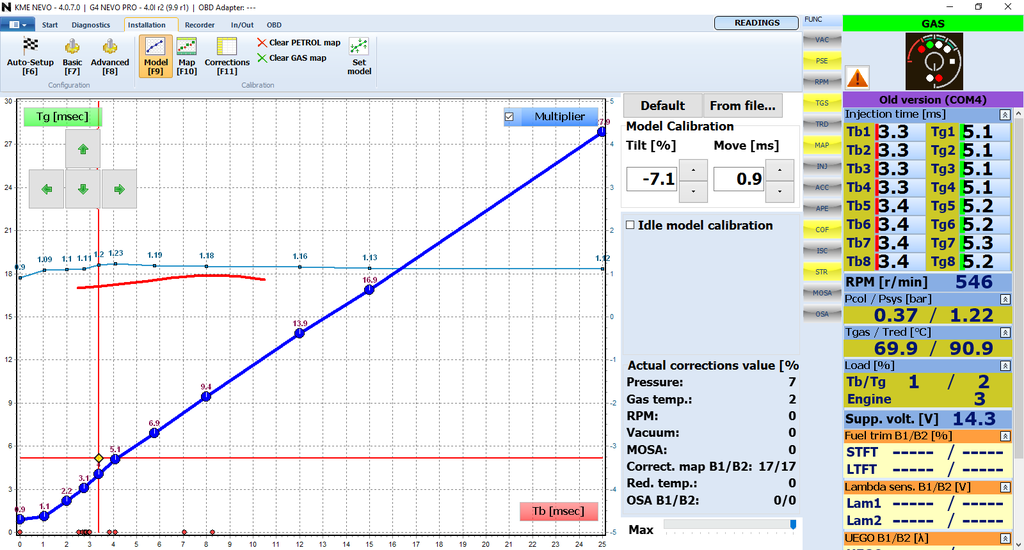 Pic of map functioning in Valvetronic mode. Clear to see it's in Valvetronic mode because manifold pressure being 0.96bar while pinj is only 3.3ms. Note how for pinj of 3.3ms, ginj is 3.4ms (granted with approx -10% of pressure and temp correction).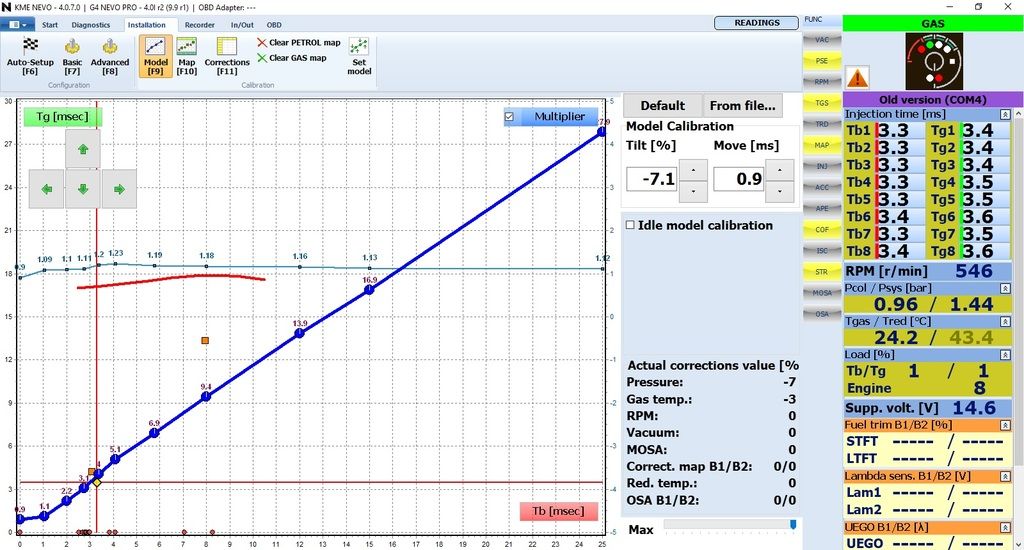 Valvetronic mode makes for quicker throttle response but also makes for more efficient engine running. This partly accounts for pinjs being the same in the above couple of screenshots. Since relative petrol pressure is around 20% lower at idle in Valvetronic mode compared to throttled mode but pinjs are the same, this demonstrates that the engine is idling 20% more efficiently / using 20% less fuel to idle in Valvetronic mode compared to throttled mode. Of course, the efficiency gains from Valvetronic become less pronounced compared to throttled mode as engine load increases because as engine load increases in throttled mode, manifold pressure increases anyway. Maintaining vacuum in the inlet manfiold implies a pumping loss, which in part refers to the work the engine has to do just to suck air into it's own cylinders.
If we take the 5.1 figure and take away 10% (approx total pressure and temp correction) we are still left with 4.59ms, if we take the 3.4ms and add 10% we are left with 3.74ms. The difference between ginj's of 3.74ms and 4.59ms highlights the fueling error that would have been present when the engine switched modes between Valvetronic and throttled modes if the manifold pressure versus fuel pressure issue had not been properly addressed and, as I'd expect, that difference represents a fueling error of around 22%! But since this has been properly addressed on this conversion, fuelling is correct all the time regardless of the engine switching modes of operation and the engine can switch seamlessly between modes while continuing to run properly and smoothly all the time while with little change in fuel trims between modes or between petrol/LPG operation.
Also note that if the LPG system was calibrated in the usual way (and while the engine was running in Valvetronic mode), then the usual assumption would be that the multiplier would be too high (regards ginj of 5.1 versus pinj of 3.3), so an installer might increase pressure and/or nozzle size to bring those figures closer together. But, if they did that, then even if the pressure compensation I've described was later somehow properly configured the vehicle still wouldn't run properly on LPG in throttled mode, because now the gas injectors would need to pulse below the minimum duration that even the fastest gas injectors could accurately work... This implies that some installers conversions that work OK in Valvetronic mode but haven't addressed running in throttled mode would need at least a change in pressure, perhaps a change in nozzle size too, perhaps a change in ECU and more thorough consideration of the issues and how to overcome them in order for the install to work properly across all modes of engine operation. This would be more likely to be the case if an installer hadn't fitted injectors that were as quick in response as the injectors I fitted, in which case there might have to be some trade off between the engine idling propelry in all modes on LPG and the LPG system being able to flow enough gas within available injection window (duty cycle of LPG injectors) for the engine to be able to receive rich enough mixture flat out at high rpm. Of course in this situation (where you can have one or the other) the installer should opt to set the system so that the engine is capable of performing properly at idle and low loads rather than flat out at high rpms, i.e. implying petrol addition or a switch back to petrol completely at combinations of high rpm and high load.
Unless the installer intention is to attempt to approximate the 'old advice' type scenario I described above in order to make for a system which delivers correct fuelling under all modes of operation, then they would be well advised to fit very fast response injectors but real world injector response can be very different to manufacturer/supplier/forum users claims. It might prove difficult for someone without very relevant experience to steer a path through hype about injectors or to approximate a setup that makes for correct fueling in all engine modes on Valvetronics in a similar way to the 'old advice' scenario (which it seems worked luckily more due to aspects of components rather than being a fully considered solution).
A few pics of the BMW745 Valvetronic I just converted engine bay.
Work in progress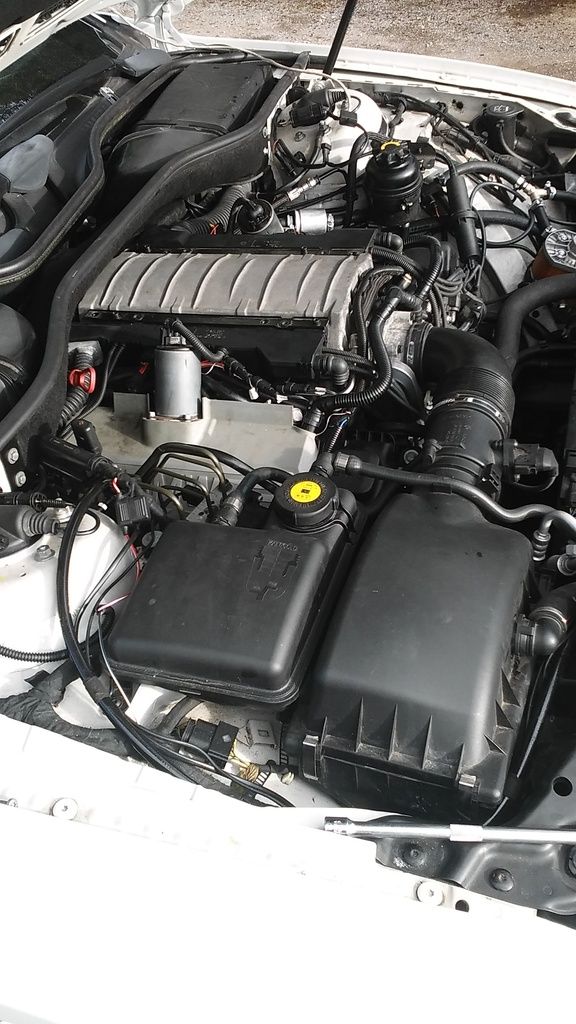 Related thread
http://www.lpgforum.co.uk/viewtopic.php?f=32&t=13790
Simon