Gilbertd wrote:
LairdScooby wrote:
just for fun i set the error reporting for the Lambda sensor last time i hooked it up to the lappy.
Just for fun? You mean you don't have it on all the time to warn you of impending doom? I use it to tell me when I'm getting low on gas as it goes lean for a long time even if I'm driving in traffic and the loss of performance isn't noticed and it told me that my lambda sensor was going to sleep after a prolonged time cruising at a constant speed. It's there for a reason, use it.
I had been advised by someone (can't remember who or when) that it was best to leave them alone - however when i say "just for fun" i don't literally mean for fun, it's to find out if the function performs a useful function and it has. Also from what you've just said, it will in the future too.
LPGC wrote:
Good point regards vehicle weights (old vs new).. But I was talking about the big V8/V12 supercharged vehicles with the kind of power figures old cars never had.
LairdScooby wrote:
It comes as no surprise to me that an SGi system would show this up when booted as the temperature sender in the reducer would pick this up. Then it's down to the setting up i suppose.
The reducer temp sensor wouldn't show up anything but the vapour pressure sensor would pick up on the low pressure and the ECU would force a switch back to petrol...To avoid lean running as per Gilbert's point!
Looking forward to your first dabbles with sequential systems mate!
Simon
I actually meant to type pressure sensor but it was late at night and i didn't!
I thought you probably meant the big V8/V10/V12 things with superchargers and turbochargers kicking 600bhp+ - if you go back 30-40 years, you were lucky to get 100bhp out of a n/asp 2 litre as standard and 150bhp from a turbo 2 litre (eg MG Montego Turbo) but now you have 1.4 n/asp engines throwing 104bhp out and i'm told the latest 2 litre electric supercharged and turbocharged engine in the new Volvo XC90 boasts 320bhp.
I'm sure i'll have some fun if i go down the SGi route and no doubt raise a few questions on here!
xtype_lpg wrote:
I ran rover 827's for 15 years on lpg useing leonardo and omvl r90 vap. no problems booting it. what axis have you mounted the vap? if its mounted across the axis of the car it will be affected by rapid acceleration and brake ing, I mounted mine so it was parallel to the sidewall and bolted to the two big bolts holding the top swinging arm.

it did tend to top out at 130, warning for you the rev limiter does not work on lpg only on petrol.

have you checked the air valve that alters the air tract at different revs it has three positions . I had two of the vacume units fail so it would not alter the air tract corectly.
I mounted my vap using the same method as you pretty much. I used the swage lines in the bodywork to prevent rotation and just used the front mounting for the upper wishbone. I have a nice short pipe coming out of the vap into the actuator then straight onto the mixer - you can just about see it all in this pic together with the alternative breather arrangement.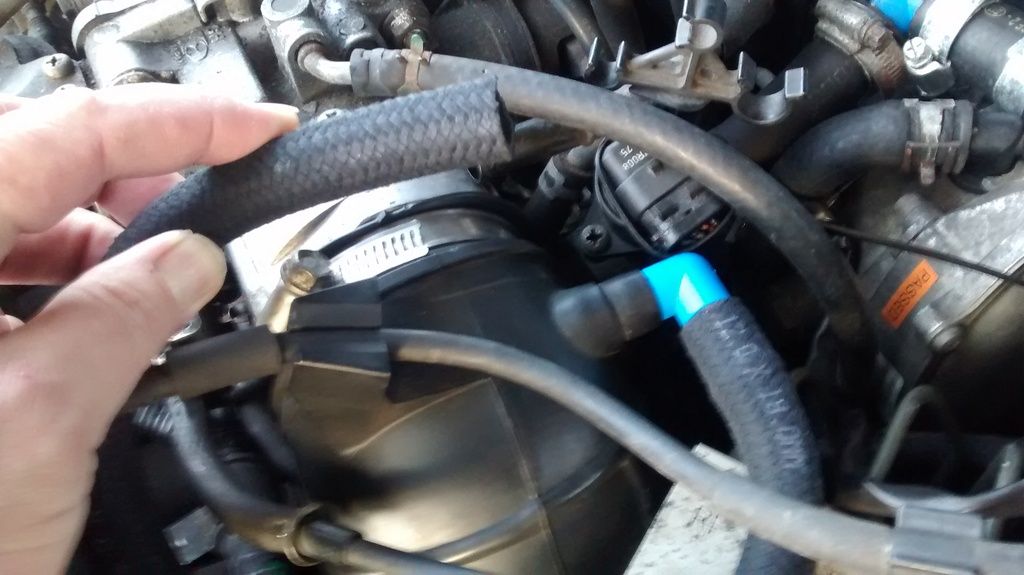 It's pretty tight in there but if you've had 827s you'll know how tight it is!
***EDIT*** Forgot to say - yes i've checked the variable length inlet is working as it should, it's a little lazy on my coupe compared to the Sterling but works.